Customized Badges
Aluminum badges that may be personalized are becoming an increasingly popular choice for businesses, organizations, and even individuals looking to promote their brand and improve their professional image. Aluminum is a lightweight, adaptable, and long-lasting material that is resistant to corrosion and oxidation and can be easily personalized with text, logos, and graphics. Aluminum also has a low coefficient of thermal expansion. In this article, we will discuss the advantages of utilizing customized aluminum badges, the many types of badges that are available, as well as the steps that need to be taken in order to design and purchase your own personalized badges.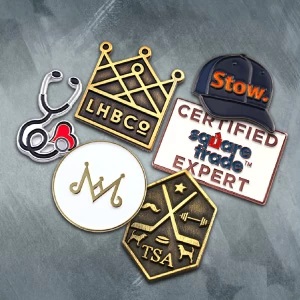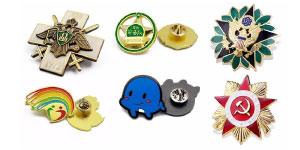 The Advantages of Having Aluminum Badges Customized
The use of engraved aluminum badges comes with a number of advantages, including the following:
Custom aluminum badges can be made to look any way you want them to, but they always have a clean and professional look. They can be personalized with your company's name, logo, and any other information that is pertinent, which helps to develop your brand identity and creates an impression that is both professional and credible.
Aluminum is a long-lasting substance that is resistant to oxidation and corrosion. This contributes to aluminum's high level of durability. This ensures that your badges will continue to look nice for a considerable amount of time, despite the normal deterioration that comes with use.
Badges made of aluminum can be personalized in a wide range of ways, including dimensions (including size and form), color, and design. This enables you to build a badge that is one of a kind, can be personalized, and is reflective of the brand and values of your business.
Cost-Effective: Personalized aluminum badges are a cost-effective method to advertise your business and enhance your professional image. You may choose from a variety of shapes, sizes, and colors. They may be quickly given to employees, customers, and other stakeholders, and they are often less expensive than other promotional items such as t-shirts or hats.
Different Styles of Badges Made from Aluminum
There are many different kinds of engraved aluminum badges available, including the following:
Badges with Embossed Designs Embossed badges have designs that are raised and recessed and are stamped onto the surface of the aluminum. This results in a three-dimensional look, which provides the badge with additional depth and texture.
Badges with Engravings: The process of creating badges with engravings involves etching the design into the surface of the aluminum. This results in a sleek and uncluttered appearance, which is perfect for text and logos.
Badges that are Printed The design for the badge is printed onto the surface of the metal that is used to make the badge. This makes it possible to have designs with full color and precise detailing.
Domed Badges Domed badges are manufactured by covering a printed design with a clear epoxy dome and then baking the badge. This results in a three-dimensional look, which provides the badge with additional depth and texture.
Creating Individually Tailored Aluminum Badges
When designing the personalized aluminum badges for your company, there are a few things to keep in mind, including the following:
Why do you wear that badge? What exactly is its function? Is it to increase awareness of your company, provide identification for staff members, or remember an event? Once you have determined the function of your badge, you can more easily select the proper design elements to incorporate into it.
Brand Identity: Your organization's badge needs to match its brand identity, including the colors, typefaces, and logos that are used by the organization. This will help to develop an image of the company that is consistent and easily recognized.
Information: Please let me know what kind of information you want printing on your badge. This might include the name of your firm and its logo, as well as the name of a person, their job position, and their contact information.
Dimensions: Both the size and the shape of your badge should be determined by you. The answer to this question will be determined by the function of your badge as well as how it will be worn or displayed.
For Promotional Gifts Items & Corporate Gifts Items