Sublimation Printing Plus Epoxy Doming
Printing by sublimation is a type of digital printing that involves the use of heat to transfer dye onto a range of substrates, such as plastics, metals, and fabrics, among other things. In order to complete the procedure, a design must first be printed with specialist sublimation inks onto a piece of transfer paper. Next, the pattern must be transferred onto the material by applying heat and pressure. The print that is produced as a result is colorful, resilient, and long-lasting, making it a great option for a wide variety of applications. Sublimation printing with epoxy coating is a common method that is used in the production of personalized products such as mugs, key chains, and phone covers. In this article, we will discuss this technique, which is one of the most widely used in the industry.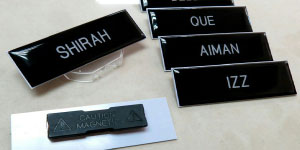 What does "Epoxy Coating" stand for?
Epoxy coating is a sort of protective coating that can be put on surfaces in order to increase the durability of said surfaces and increase their resistance to wear and tear. A resin and a hardener make up the two components that make up this two-part system. The combination of these two components triggers a chemical process that leads to the production of a tough and long-lasting coating that is resistant to the effects of a wide range of climatic and environmental factors. Epoxy coatings are a prominent form of surface protection utilized in industrial and commercial settings. These coatings can be applied to floors, walls, and other types of surfaces.
Printing using sublimation followed by an epoxy coating
The method known as "sublimation printing with epoxy coating" includes coating a sublimated image with an additional layer of epoxy after the picture has been printed. The first step in the procedure involves making a sublimated picture by employing sublimation inks and transfer paper that are specifically designed for the operation. After the image has been successfully transferred onto the substrate, a coat of epoxy is painted or rolled on top of it using a brush or roller. This step is performed after the image has been completed. After the epoxy has been given time to harden, the result is a glossy, long-lasting surface that shields the picture from damage and boosts the intensity of its colors.
Epoxy coating confers a number of advantages to sublimation printing.
Epoxy coating combined with sublimation printing provides a number of features that are not offered by other printing methods. The finished print is exceptionally long-lasting, making it suitable for objects that will be subjected to wear and tear. First and foremost, the print that was produced is extremely durable. In addition to this, the epoxy coating offers a high-gloss finish, which not only draws attention to the image but also boosts its color saturation and brightness. Last but not least, sublimation printing with the epoxy coating is a method that is both efficient and economical for the production of individualized goods, whether in small or big quantities.
Epoxy coating is used for a variety of applications of sublimation printing.
Sublimation printing with an epoxy coating can be utilized for a number of purposes, including the production of personalized goods such as mugs, key chains, and phone covers, amongst other things. In addition to this, it is frequently utilized in the creation of a wide variety of promotional goods, such as nameplates and signage. Because of the prints' resistance to sunlight, rain, and other elements, they are ideally suited for usage in outdoor settings. This is because their longevity and vividness make them an excellent choice for this application.
For Promotional Gifts Items & Corporate Gifts Items